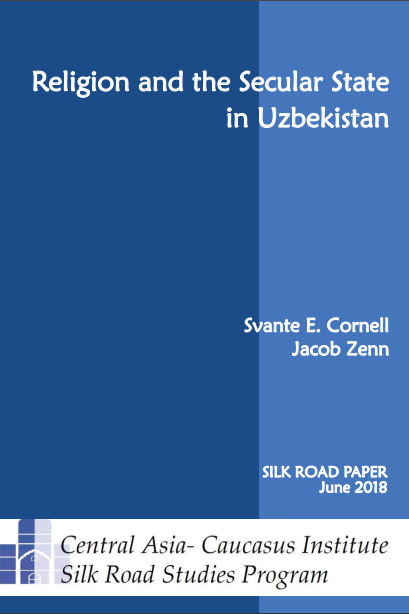 By Svante E. Cornell and Jacob Zenn
Silk Road Paper
June 2018
Executive Summary
Major political and economic reforms have been initiated since Shavkat Mirziyoyev became the country's President in fall 2016. The interaction between state and religion has been part and parcel of this reform process.
This area is a contentious one, rife with confusion. Many consider Central Asia peripheral to the Muslim world, but in fact the territory of present-day Uzbekistan occupies a central position in the history and development of the religion. The intellectual effervescence of the region a millennium ago, which has recently been dubbed the "Lost Enlightenment," included advances in both science, philosophy and theology, as well as the rise of Islamic mysticism. The Soviet period had more pernicious effects than only an onslaught against religion: in keeping with the tradition of dividing and ruling, Soviet authorities repressed traditional Central Asian Islam, particularly its Sufi variety, but actively encouraged more orthodox practices imported from the Middle East, including Salafi ideas. These took root in parts of Uzbekistan the Soviet period, and help explain the explosion of extremist jihadism in the Ferghana valley in the late 1980s.
Against this complex background, the independent state of Uzbekistan established a secular form of government in 1992. So did its Central Asian neighbors and Azerbaijan, but Tashkent took a considerably harder line against religious influences from abroad. On one hand, the state struck up cordial relations with the leaders of traditional religious communities – whether Muslim, Christian or Jewish. While seeking to guarantee religious pluralism, the Uzbek state worked to protect the state and society from novel, intolerant religious ideologies, which were rife in the civil wars in nearby Afghanistan and Tajikistan, and imposed sometimes draconian punishments for individuals and groups deemed extremist in nature.
These policies became among the most contentious issues in Uzbekistan's relationship with Western countries and international organizations, which criticized Tashkent for human rights abuses and restricting religious freedom, and feared these policies would only strengthen the appeal of radical ideologies. Yet Uzbek officials were not content to target only the violent manifestations of extremist ideology: they opposed the ideology itself, viewing it as particularly dangerous in at a time of wide-ranging transition involving the consolidation of national identity.
When Mirziyoyev took over the reins of power, Uzbekistan – unlike several of its neighbors – had not experienced a terrorist incident on its soil for over a decade. From this position of relative strength, Mirziyoyev recalibrated religious policies, shifting from a defensive to an offensive strategy. He maintained the secular nature of the state, its laws, and its education system. But he also put increasing emphasis on promoting the tolerant Islamic tradition indigenous to Central Asia, something he dubbed "Enlightened Islam."
Beyond steps to encourage public expressions of religion, Mirziyoyev has announced the creation of several new institutions. This includes an Islamic Academy of Uzbekistan, as well as an Islamic Culture Center designed to "fight religious ignorance and promote Islam's true values." In addition, he announced the creation of the Imam Bukhari International Scientific Research Center, headquartered at the Imam Al-Bukhari Academy in Samarkand. Remarkably, this latter initiative will focus equally on religious and secular knowledge.
Among other measures, the government has now removed 95 percent of individuals registered as "religious radicals" from a government list, encouraged the return of religious dissidents to the country, and engaged with international bodies promoting the freedom of religion.
In sum, for a quarter century, Uzbekistan adopted a defensive approach in the religious realm, which focused on thwarting radicalization and safeguarding its secular governance. Today, the country's leadership is confidently presenting an Uzbek model of Islam to the world: a secular state in which the moderate Hanafi tradition of the region is able to flourish.
The longer-term question goes beyond the confines of Uzbekistan or even Central Asia: will this model be relevant to countries in the Islamic heartland? The negative experience of mixing religion and politics across the Muslim world may yet lead to a quest for a better solution to the age-old problem of negotiating the state's relationship to religion. If Uzbekistan, and its neighbors, succeed in safeguarding secularism while promoting tolerant and traditional religious institutions, other Muslim countries may well take notice. That would carry global significance, and suggests Western states and organizations take an active and constructive role in supporting the ongoing reform process.