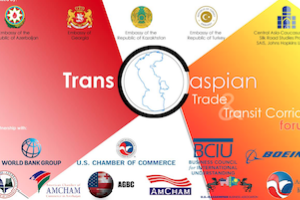 TRANSIT FORUM with the Embassies of Azerbaijan, Georgia, Kazakhstan, and Turkey
Thursday, 28 April, 2016, from 8 a.m. to 4 p.m.
The Central Asia, Caspian, South Caucasus and Black Sea regions together form a strategically important transit corridor between China and Europe. Connecting trade, people and economies, the modern trans-Caspian trade and transit routes from China to Europe, envisages an extensive and integrated network of infrastructure, special economic zones, harmonized customs, and cross-border procedures along this route.
Azerbaijan, Georgia, Kazakhstan and Turkey combined represent a market of more than 110 million consumers. These countries are able to offer customized and integrated solutions to companies with highly sophisticated supply chains.
Video of the forum can now be viewed on the SAIS Events YouTube channel.
On Thursday, April 28, 2016, the Embassies of Azerbaijan, Georgia, Kazakhstan, and Turkey to the U.S.A., are organizing the "Trans-Caspian East-West Trade and Transit Corridor" Forum in Washington, D.C., in partnership with the World Bank Group, U.S. Chamber of Commerce, Business Council for International Understanding, Boeing Company, U.S.-Azerbaijan Chamber of Commerce, AmCham Azerbaijan, America-Georgia Business Council, U.S.-Kazakhstan Business Association, AmCham Kazakhstan, AmCham Georgia, and Turkish-American Business Association/AmCham Turkey.
This special all-day forum, hosted by the Central Asia and Caucasus Institute at SAIS-Johns Hopkins University, will introduce projects and investments along the modern Silk Road to U.S. business leaders across a variety of multinational industries.
Speakers at this special forum include: Ambassador Elin Suleymanov, Azerbaijan; Ambassador Archil Gegeshidze, Georgia; Ambassador Kairat Umarov, Kazakhstan; Ambassador Serdar Kılıç, Turkey; Mr. Gary Litman, VP, US Chamber of Commerce; S. Frederick Starr, Chairman, Central Asia-Caucasus Institute, JHU-SAIS; Dr. Taleh Ziyadov, Director-General, Baku International Sea and Trade Port; Mr. Rauf Valiyev, Chairman, Azerbaijan Caspian Shipping; Mr. Mamuka Bakhtadze, CEO, Georgian Railways; Ms. Ketevan Salukvadze, Head of Transport Policy Dept., Ministry of Economy and Sustainable Development; Mr. Askar Mamin, President, Kazakhstan Railways; Mr. Sanzhar Yelubayev, President of KTZ Express; Mr. Osman Nuri Beyhan, Deputy Director General for EU and International Affairs, Ministry of Customs and Trade; and others TBA.
Schedule, Thursday, 28 April 2016:
8:00 - 9:00 a.m. Continental breakfast
9:00 - 10:00 a.m. Welcome by the Central Asia-Caucasus Institute, the US
Dept of State, Ambassadors of Azerbaijan, Georgia,
Kazakhstan, and Turkey, and representatives from the US
Chamber of Commerce
10:00 - 11:00 a.m. Panel #1: "Trans-South Caucasus Customs and Trade
Facilitation: What Needs to Be Done?"
Moderator: S. Frederick Starr
11:00 - 11:25 a.m. Q & A
11:25 - 11:40 a.m. Break (refreshments)
11:40 - 12:40 p.m. Panel #2: "'From Sea to Sea' Integrated Regional Transit
and Logistics Infrastructure."
Moderator: TBD
12:40 - 1:00 p.m. Q & A
1:00 - 2:00 p.m. Lunch served in the auditorium
2:00 - 3:00 p.m. Panel #3 "Commercial and Investment Opportunities:
Financing, Logistics, and Supply Chain."
Moderator: Jorg Frieden, Executive Director, The World
Bank Group
3:00 - 3:25 p.m. Q & A
3:25 - 4:00 p.m. Closing remarks
Please note location of this forum:
Kenney Auditorium, Nitze Building
SAIS - Johns Hopkins University
1740 Massachusetts Ave., NW
Washington, DC 20036
Click here to sign up for CACI Forum mailing list